ਆਗਾਹਾ ਕੂ ਤ੍ਰਾਘਿ ਪਿਛਾ ਫੇਰਿ ਨ ਮੁਹਡੜਾ॥
ਨਾਨਕ ਸਿਝਿ ਇਵੇਹਾ ਵਾਰ ਬਹੁੜਿ ਨ ਹੋਵੀ ਜਨਮੜਾ॥
Aagahaa koo traagh Pichha pher na muhdharha. Nanak sijh ivehaa vaaar Bahurh na hovee janamrhaa. Look ahead; don't turn your face backwards. O Nanak, be successful this time, and you shall not be reincarnated again.
Child with a Book is Path to Prosperity
'Being 100% faith positive and serving to the needy at all times and in all situations.'
DR. DAVINDER SINGH, SECRETARY
The Kalgidhar Society – Baru Sahib
This End of the Year report showcases our achievements of the year gone by. At the same time, this is the opportunity to express our gratitude to you for your continuous support and unfaltering faith in us that has made all this possible. It is an attempt to thank you for all your contributions and encouragement to continue our philanthropic projects.
The Covid-19 pandemic has taught everyone something or the other; the biggest lesson of being compassionate and caring at all times.
The small acts of compassion like a caring touch, a kind word, a listening ear work wonders in curing even critical patients. The Doctors, Nurses and other paramedical staff at Akal Charitable Hospital treated the patients with 'CARE TO CURE' along with medication.
This charitable hospital is the only medical facility in a radius of 60 Km in this backward region of Himachal Pradesh. This is the reason why Akal Charitable hospital was declared DCCC (Dedicated Covid Care Centre) by the State where 753 patients were treated during the second wave of pandemic,
in which patients could not get oxygen to breathe. But with your support, it was provided free to them in this hospital.
People are treated here irrespective of caste, creed, colour or religion. Not only free medication to the patients but also free accommodation and meals are provided to their attendants.
The importance of fundamental years of schools cannot be denied, in which the lessons learnt remain with the child for lifetime. Teachers play a vital role in inculcating the discipline and self-confidence in students which pave the way to success.
Beating his city counterparts, Simrandeep Singh, an alumnus of Akal Academy Kauriwara (Mechanical Engineer by profession) from Mansa district secured 34th rank in UPSC 2020 exams conducted for top posts in Civil services across the country. Like him, thousands of our rural children have excelled on All India level and cracked the competitive exams and selected for top notch positions in Govt. jobs. These excellent results show the time and efforts our teachers put in for the success of their students.
We appreciate your trust in us and wish you a blessed 2022.
Akal Charitable Hospital – Baru Sahib had been declared as DCCC (Dedicated COVID Care Center) and Dedicated COVID Health Center by District Magistrate, Himachal Pradesh.
~ Tribune, 28th March 2021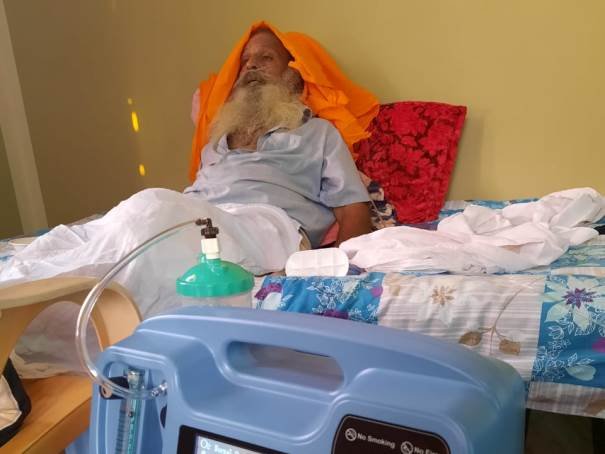 COVID PATIENTS TREATED FREE
with only 0.4% Mortality Rate
FREE OXYGEN CONCENTRATOR SETUPS IN PUNJAB, HIMACHAL PRADESH & UTTAR PRADESH
PEOPLE PROVIDED WITH FREE VITAMINS AND SUPPLEMENTS
FREE MEALS DISTRIBUTED PER DAY
IN THE RADIUS OF 40 KM FOR PICKUP & DROP FOR COVID PATIENTS
SETUP AT AKAL CHARITABLE HOSPITAL
SUPPORT PROVIDED BY THE MEDICAL STAFF UNDER THE ADMINISTRATION OF HP GOVT.
SIMRANDEEP SINGH, AN ALUMNUS OF AKAL ACADEMY KAURIWARA FROM MANSA DISTRICT SECURED
IN UPSC 2020 EXAMS CONDUCTED FOR TOP POSTS IN CIVIL SERVICES ACROSS THE COUNTRY
HARJINDER SINGH BEDI (SON OF A DAIRY FARMER), AN ALUMNUS OF AKAL ACADEMY BHARYAL LAHIRI, SECURED
IN UPSC 2019 EXAMS CONDUCTED FOR TOP POSTS IN CIVIL SERVICES ACROSS THE COUNTRY.
MANDEEP KAUR, B.TECH CSE FINAL YEAR STUDENT OF ETERNAL UNIVERSITY, BARU SAHIB, HAS BEEN SELECTED IN
WITH A HANDSOME SALARY PACKAGE. HER PACKAGE IS ONE OF THE BEST FOR AN ENTRY-LEVEL GRADUATE.
CHILD OF A LABOURER FATHER (NOW EXPIRED) & HOUSEMAID MOTHER. SANDEEP DAS OF AKAL UNIVERSITY, TALWANDI SABO CLEARED
FOR HIGHER EDUATION AND MENTOR IN MTTS (MATHEMATICS TRAINING AND TALENT SEARCH) PROGRAM.
SIMRANJEET KAUR, A YOUNG ACHIEVER OF AKAL UNIVERSITY, TALWANDI SABO SECURED
IN GATE 2020 AS WELL AS 26TH RANK IN CSIR UGC NET IN JUNE 2019 & 24TH RANK IN JRF IN DECEMBER 2019 ACROSS THE COUNTRY
GURKIRAT SINGH, A STUDENT OF AKAL ACADEMY RATTA KHERA, FEROZEPUR, PUNJAB PARTICIPATED IN SIVERZONE OLYMPIAD AND HAS GRABBED
IN INFORMATICS, ENGLISH LANGUAGE, SCIENCE, GENERAL KNOWLEDGE AND HINDI.
NAVNEET KAUR, AN ORPHAN CHILD PERFORMING THE ROLE OF BRINGING DISCIPLINE IN LIFE OF OTHERS AS A COMMANDO IN PUNJAB POLICE.
SHE OWES THIS ALL TO HER TEACHERS AT AKAL ACADEMY BHARYAL LAHRI, WHO SUPPORTED HER IN TOUGH TIMES AND GUIDED HER TO SUCCESS.
A CHILD FROM FARMERS' FAMILY, JASKIRAT SINGH, CLEARED THE JEE ADVANCE AND GOT A CHANCE IN IIT ROORKEE FOR BIOTECH,
IIT DELHI FOR TEXTILE AND IIT KHARAGPUR FOR AGRICULTURE, MAKING TEACHERS OF AKAL ACADEMY MANDER VERY PROUD OF HIM.
ANMOLDEEP KAUR, A STUDENT OF GRADE 9TH, AKAL ACADEMY SEONA, HAS BEEN SELECTED FOR NATIONAL LEVEL ATHLETICS UNDER-16.
IN 100M SPRINT GIRLS UNDER-16 COMPETITION 13.25 SECONDS ORGANIZED BY THE GOVT OF SPORTS (AFI – ATHLETICS FEDERATION OF INDIA).
These are just few of the thousands of such examples where our teachers have helped these rural children shine in their life. The results speak of the quality coaching of our highly qualified teachers, who always make our 65,000 students feel that they have someone to speak and guide them always.
They Beat their City Counterparts
Owing to the hard work of our dedicated and supportive teachers readily available for any queries while providing online classes, our enthusiastic rural smartians scored excellent percentile as compared to nationwide performance of students who appeared in CBSE.
CLASS XII CBSE BOARD EXAM RESULT 2021
NO. OF STUDENTS SCORED ABOVE 80%
HIGHEST % OF MARKS SCORED
Out of Total 468 Students
CLASS X CBSE BOARD EXAM RESULT 2021
NO. OF STUDENTS SCORED ABOVE 80%
HIGHEST % OF MARKS SCORED
Out of Total 3,562 Students
Seeking Welfare of Humanity
Restoring Health & Happiness
In Akal Charitable Hospital, Baru Sahib
Creating Drug-Free Society
WRITTEN BY DR (COL) RAJINDER SINGH BY SHIROMANI PANTH RATAN BABA IQBAL SINGH JI
on 'International day against Drug-Abuse' on June 26, 2021, which showcases the ways to win the war against Drug Addiction through holistic management of the Drug abuse cases with the incorporation of the spiritual component along with the conventional approach.
PATIENTS TREATED IN AKAL DRUG DE-ADDICTION & REHABILITATION CENTER
TO COMMEMORATE GURU TEGH BAHADUR JI'S 400TH BIRTH ANNIVERSARY, THE KALGIDHAR SOCIETY – BARU SAHIB IN COLLABORATION WITH VISUAL ARTIST DUO THUKRAL AND TAGRA PRESENTED AN INTERACTIVE, INFORMATIVE, AND INSIGHTFUL GAME.
AN INTERACTIVE TONGUE-TWISTER PLAY OF WORDS BASED ON THE LIFE-JOURNEY OF THE NINTH GURU OF SIKHISM, FOR INDIVIDUALS OF ALL AGE GROUPS. THE POETIC EXPRESSION FOR THE GAME IN PUNJABI IS WRITTEN WITH AN ARTISTIC POINT OF VIEW BY HARMANJEET SINGH (RANI TATT)
With the help of competent Architects and Engineers, the buildings of all the Akal Academies and allied structures are scientifically constructed. There is a tremendous requirement of buildings for the new classrooms for the growing number of students in the existing Academies.
CLASSROOMS AND LABS ADDED
RENOVATION AND CONSTRUCTION OF GURDWARA SAHIB AT THE PLACE WHERE SANT TEJA SINGH JI USED TO LIVE AT PAONTA SAHIB, WHICH IS ALSO KNOWN AS 'KUTTIYA SANT TEJA SINGH JI' (COTTAGE – SANT TEJA SINGH JI) HAVE STARTED.
UNDER THE SUPERVISION OF SHIROMANI PANTH RATAN BABA IQBAL SINGH JI, BARU SAHIB, GURDWARA DAMDAMA SAHIB IN GOMTI, DISTRICT PILIBHIT OF UTTAR PRADESH IS UNDER CONSTRUCTION WITH THE WHOLEHEARTED SUPPORT AND CONTRIBUTION OF THE SANGAT.
Proud Moment for Community
TO HONOR SANT TEJA SINGH JI AND THE HISTORY AND CULTURE OF SIKHS IN BRITISH COLUMBIA, THE 1ST OF JULY HAS BEEN DECLARED AS
BY THE GOVERNMENT OF BRITISH COLUMBIA, CANADA.