ਵਿਚਿ ਦੁਨੀਆ ਸੇਵ ਕਮਾਈਐ ॥ ਤਾ ਦਰਗਹ ਬੈਸਣੁ ਪਾਈਐ ॥
In the midst of this world, do seva, And you shall be given a place of honor in the Court of the Lord.
Bringing
Grace to
Human
Race
This report showcases the achievements of the year gone by. At the same time, this is also to extend our gratitude to you, the people who make it possible. In an attempt to thank you for all your contributions and encouragement to continue our work, Thank you for Bringing Grace to Human Race.
In 2019, The Kalgidhar Society continued to work towards providing quality education, healthcare, women empowerment and social welfare, to facilitate the socio-economic uplift of the poor in the far-flung rural areas of Punjab.
"It gives me immense pleasure to share our achievements with you which enable children and women live up to their full potential and lead empowered lives led by values. But it is not possible without our supporters who place their faith in us and allow us to continue our work to bring back the beauty of Punjab. I would like to extend my heartfelt gratitude to all of you. Here is to a more impactful 2020 ."
Dr. Davinder Singh, Secretary
PROJECTS CONTINUED & IMPLEMENTED
Rural Education Revolution
Higher Education
School of Spiritual Sciences for Girls
Elementary Teacher Training Academy
Charitable Hospital
Drug and Alcohol Rehabilitation Center
Medical Camps
Solar Initiatives
Waste Management
Disaster Relief
Home for Widows and Destitute
Senior Citizen Homes
Orphanage
Rural Economic Uplift

Using a value-based education system, we envision to empower students with high-quality education who are committed to make a positive change in the society.
15 RURAL STUDENTS FROM AKAL ACADEMIES HAVE TOPPED ACROSS 12 DISTRICTS OUT CLASSING CITY SCHOOL STUDENTS
Students enrolled for FREE Education
Sports Champions Produced
AKAL UNIVERSITY - TALWANDI SABO
Students Studying FREE/Subsidised
Students Enrolled in Sri Guru Granth Sahib Studies
17 students qualified for All India CSIR/UGC-NET Examination with highest All India Rank 26, 59, 63 respectively.
2 students got Full Fees Scholarship for doing Masters at University of North Carolina, USA
Dr. Neelam Kaur, a noted educationalist adviser, healthcare Akal Academy, Baru Sahib (Sirmaur) has been honoured with excellence in school education at UK House of Commons for her extraordinary work for the cause of education of underprivileged students and empowerment of women in Punjab, Haryana, Himachal Pradesh.
The programs provide free health care and rehabilitation services to bring people out of the trap of drug and alcohol abuse. Efforts have also been made towards the betterment of the environment.
77 People received surgical assistance in Medical Camps
DRUG DE-ADDICTION CENTERS
80 Anti-Drug Rallies Organized by the Students of Akal Academies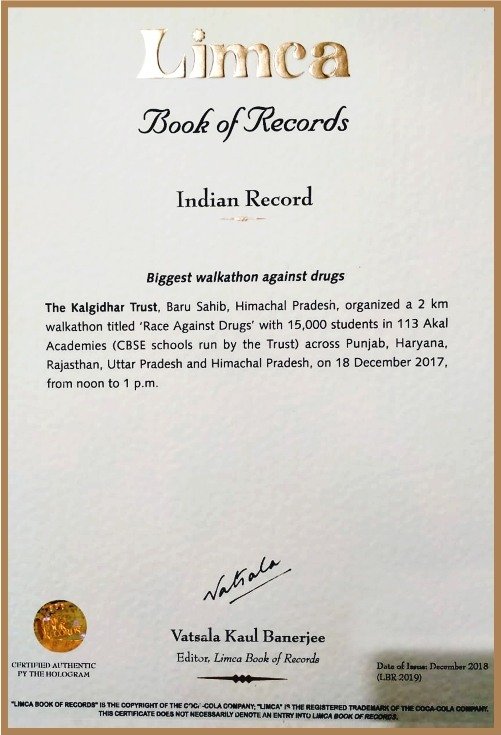 The chain of Akal Academies across North India has found a place in the Limca Book of Records for organising India's biggest rally against drug abuse.
15,000 students of 113 Akal Academies rallied against drug abuse on December 18, 2017 and succeeded in reaching out and motivating 4 lakh people. A total of 1,400 km was covered.
SPV Inaugurated at Akal University Talwandi Sabo
The Kalgidhar Society provides FREE Elementary Teacher Training and employment opportunities to retain their daily living with honour and self-respect.
In 2019, The Kalgidhar Society has successfully reached 109 rural girls under the teacher training program and empowered 28 women to become teachers. Moreover, there are 520 teachers in Akal Institute of Rural Women Empowerment.
Rural Girls Impacted in Teacher Training Program
Girls Empowered as Teachers
INTERNALIZING SPIRITUALITY WITH MEANING
We encourage children to deeply understand the role of spirituality in leading a respectful and value-based life.
Banis of Nitnem performed by Students
Japji Sahib done by students on the occasion of 550th Gurupurab
Sehaj Paths done by students
Akhand Paths done by Students
Students initiated into Khalsa Fold
Sukhmani Sahibs done by Students
550 volunteers from Gurdwara Baru Sahib performed the following Seva at Gurdwara Shri Ber Sahib Sultanpur Lodhi during 1st to 13th November, 2019 on the occasion of 550th Birth Anniversary of Shri Guru Nanak Dev ji.
50 stage performances of Kirtan and Dhadi Varan at different Gurdwaras of Sultanpur Lodhi.
Free distribution of Brief Life history of Shri Guru Nanak Dev ji in 15 languages and provided Guides in 15 languages to help the Congregation.
Providing all Housekeeping services at Gurdwara Shri Ber Sahib Complex.
Brooming Seva in the front of Palki Sahib and managing the Sangat during International Nagar Kirtan and during Nagar Kirtan from Gurdwara Rabaab Sar Sahib to Gurdwara Sant Ghat.
Continuous Chhabil seva (Jal Seva) at 2 places.
Immediate solutions provided to complaints related to Electrical gadgets.
Distributing Langar at different Gurdwara Sahibs.
The staff and students of Akal Academies untiringly participated to help flood victims of Punjab.The Kalgidhar Society – Baru Sahib were sent Electricians, Masons and Plumbers to repair the loss to the property of the victims due to the floods.
Electrical Work done in Houses
Plumbing Work done in Houses
Construction Work done in Houses
Provided 3 boats for supplying Drinking Water, Ration, Medicines, Cattle Feed & Toodi in village Dhakka Basti, Jalandhar.

Provided and Installed 10 Solar lights in the village of Dhaka Basti, Jalandhar which is totally dark due to the damage of transformer and electricity line.

Constructed a Tin Shed of 20x26ft and handover to a poor old lady. Her house was completely damaged due to floods. She was having no source of income.

Repaired and Painted one Tricycle and handover to a Physically Disabled person at village Mundi Shehrian, Jalandhar.

Rebuilt the ramp, path and cleaned the whole building of a Govt. Primary School which was full of mud due to flood water in village Mundi Shehrian, Jalandhar.