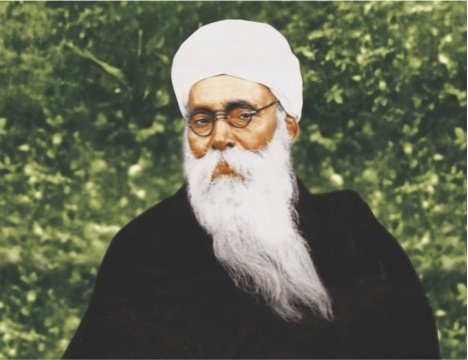 M.A., LLB.(Pb.), AM (Harvard USA)
Born in village Balowali, Gujranwala (now in Pakistan)
ਕਰਤਾਰ ਨੂੰ ਮਿਲਣ ਦੀ ਸਚੀ ਖਿੱਚ
ਜਿੰਨੀ ਕਿਸੇ ਮਾਈ ਭਾਈ ਨੂੰ ਆਪਣੇ ਚੰਗੇ ਬਸਤਰ ਅਤੇ ਸੂਟ-ਬੂਟ ਪਹਿਨਣ ਦੀ ਅਤੇ ਚੰਗਾ ਖਾਣ-ਪੀਣ ਦੀ ਖਿੱਚ ਹੁੰਦੀ ਹੈ, ਜੇ ਇੰਨੀ ਭੀ ਲਗਨ ਅਕਾਲ ਪੁਰਖ ਦੇ ਮਿਲਣ ਦੀ ਹੋ ਜਾਵੇ ਤਾਂ ਭੀ ਉਹ ਪ੍ਰੇਮੀ ਆਤਮਿਕ ਹੁਲਾਰਿਆਂ ਦਾ ਅਨੰਦ ਮਾਣ ਸਕਦਾ ਹੈ।
ਮਿਲੁ ਮੇਰੇ ਪ੍ਰੀਤਮਾ ਜੀਉ ਤੁਧੁ ਬਿਨੁ ਖਰੀ ਨਿਮਾਣੀ ॥ (244)
Longing to merge with the Almighty
Just as a person has immense craving to dress himself well and eat sumptuous food, similarly if he has the same amount of urge within, to be Divine, he will certainly follow the Divine path to become so:
(Meet me, O my dear Beloved! Without You, I am totally dishonored.)
ਅੰਤਹਕਰਣ ਨੂੰ ਸਾਫ ਕਰਨਾ
ਜਨਮ ਜਨਮ ਕੀ ਇਸੁ ਮਨ ਕਉ ਮਲੁ ਲਾਗੀ ਕਾਲਾ ਹੋਆ ਸਿਆਹੁ ॥ (651)
ਅੰਤਹਕਰਣ ਨੂੰ ਸਾਫ ਕਰਨ ਲਈ ਗੁਰੂ ਨਾਨਕ ਦੇਵ ਜੀ ਇਸ ਤਰ੍ਹਾਂ ਸਪਸ਼ਟ ਕਰਦੇ ਹਨ:

ਮੂਤ ਪਲੀਤੀ ਕਪੜੁ ਹੋਇ ॥ ਦੇ ਸਾਬੂਣੁ ਲਈਐ ਓਹੁ ਧੋਇ ॥
ਭਰੀਐ ਮਤਿ ਪਾਪਾ ਕੈ ਸੰਗਿ ॥ ਓਹੁ ਧੋਪੈ ਨਾਵੈ ਕੈ ਰੰਗਿ ॥ (4)
Cleanliness of the inner-self
(Human mind keeps gathering egoistic dust and dirt from its innumerable past lives down the ages and becomes totally polluted with this dust.)

Guru Nanak Dev Ji shows us the wonderful way to purify the polluted mind:

(As we wash our dirty linen with soap to remove dirt, similarly we should also purify our egoistic mind with utmost love and devotion by meditation on the Divine Name.)
ਹਰ ਰੋਜ਼ ਦਾ ਗੁਰਮਤਿ ਅਭਿਆਸ
ਅੰਮ੍ਰਿਤ ਵੇਲੇ (ਸੂਰਜ ਚੜ੍ਹਨ ਤੋਂ ਘੱਟੋ-ਘੱਟ ਤਿੰਨ ਘੰਟੇ ਪਹਿਲਾਂ) ਜਾਗਣਾ, ਇਸ਼ਨਾਨ ਕਰ 'ਵਾਹਿਗੁਰੂ' ਗੁਰਮੰਤ੍ਰ ਦਾ ਅਭਿਆਸ ਕਰਨਾ, ਗੁਰਬਾਣੀ ਦਾ ਨਿੱਤਨੇਮ ਕਰਨਾ ਅਤੇ ਅੰਮ੍ਰਿਤ ਵੇਲੇ ਜਪੁ ਜੀ ਸਾਹਿਬ, ਜਾਪੁ ਸਾਹਿਬ, ਸੁਧਾ ਸਵੱਯੇ, ਚੌਪਈ ਅਤੇ ਅਨੰਦ ਸਾਹਿਬ ਦਾ ਪਾਠ ਕਰਨਾ ਅਤੇ ਗੁਰੂ ਕੇ ਦੀਵਾਨ ਵਿੱਚ ਹਾਜ਼ਰੀ ਭਰਨਾ।ਸਾਰਾ ਦਿਨ ਕੰਮ-ਕਾਰ ਕਰਦਿਆਂ, ਚਲਦਿਆਂ, ਫਿਰਦਿਆਂ, ਉਠਦਿਆਂ, ਬਹਿੰਦਿਆਂ ਗੁਰ ਸ਼ਬਦ ਦਾ ਅਭਿਆਸ ਕਰੀ ਜਾਣਾ। ਧਰਮ ਦੀ ਕਮਾਈ ਕਰਨਾ ਅਤੇ ਦਸਵੰਧ ਕੱਢਣਾ:

ਹਾਥ ਪਾਉ ਕਰਿ ਕਾਮੁ ਸਭੁ ਚੀਤੁ ਨਿਰਜੰਨ ਨਾਲਿ ॥ (1376)

ਸੰਧਿਆ ਵੇਲੇ ਰਹਿਰਾਸ, ਚੌਪਈ, ਛੇ ਪਉੜੀਆਂ ਅਨੰਦ ਸਾਹਿਬ ਦਾ ਪਾਠ ਕਰਨਾ ਅਤੇ ਦੀਵਾਨ ਵਿੱਚ ਹਾਜ਼ਰੀ ਭਰਨਾ।
ਰਾਤ ਨੂੰ ਸੌਣ ਵੇਲੇ ਕੀਰਤਨ ਸੋਹਿਲਾ ਦਾ ਪਾਠ ਕਰਨਾ।
Reciting Gurbani and Divine Naam everyday
to tread on the Divine path
It means a daily recitation of Gurbani and the Divine Naam with an unpolluted mind, complete love and devotion. One must wake-up at the ambrosial hour, at least three hours before sunrise. He must have his bath and should meditate on the Divine Naam. Then recite the five Baanis viz. Japuji, Jaap Sahib, Sudha Swaeeye, Choupaee and Anand Sahib.
Thereafter, he should seek the Guru's blessings in the presence of Sangat by listening to Shabad Kirtan in a Gurdwara.In the evening, Rehras should be recited. Before retiring for the day, one must say the final prayer in the form of Kirtan Sohila.In between, he must keep reciting the Divine Naam all the time, while carrying on with the worldly affairs:
(Your body should perform all worldly deeds the whole day, but let your mind with utmost devotion remain with the Immaculate Lord.)
One must earn his livelihood honestly and a tenth of his earnings (Daswandh) should be given for charitable purposes. All this should be followed as an act of faith and not a mere ritual. This is the discernable routine prescribed by the Guru and every Sikh should follow it religiously.
ਸਿਮਰਨ ਅਤੇ ਕੀਰਤਨ ਦੇ ਨਾਲ-ਨਾਲ ਚਾਰ ਗੱਲਾਂ
1.ਘਾਲਿ ਖਾਇ ਕਿਛੁ ਹਥਹੁ ਦੇਇ ॥ ਨਾਨਕ ਰਾਹੁ ਪਛਾਣਹਿ ਸੇਇ ॥ (1245)
2.ਮਿਠਤੁ ਨੀਵੀ ਨਾਨਕਾ ਗੁਣ ਚੰਗਿਆਈਆ ਤਤੁ ॥ (470)
3.ਫਰੀਦਾ ਜੇ ਤੂ ਅਕਲਿ ਲਤੀਫੁ ਕਾਲੇ ਲਿਖੁ ਨ ਲੇਖ ॥
ਆਪਨੜੇ ਗਿਰੀਵਾਨ ਮਹਿ ਸਿਰੁ ਨੀਵਾਂ ਕਰਿ ਦੇਖੁ ॥ (1378)
4.ਦਇਆ ਜਾਣੇ ਜੀਅ ਕੀ ਕਿਛੁ ਪੁੰਨੁ ਦਾਨੁ ਕਰੇਇ ॥ (468)
Four important principles to tread on the divine path
Broadly there are four important principles to tread on the divine path along with meditation and divine Kirtan:
1. Share with others what belongs to you:
(Only he, who works hard for honest livelihood and shares a part of his earnings - minimum 10% - with others, recognizes the divine path.)
2. Humility is the greatest virtue:
(The essence of all virtues is humility.)
3. Shed ego:
(If you have been blessed to be intelligent, do not perform bad deeds. Rather, introspect humbly about the bad deeds performed earlier.)
4. Be merciful:
(Be kind to others, perform good deeds and donate something)
Spiritual awareness imbues a person with divine humility and he sees One-in-all and all-in-One.
ਦੁਨਿਆਵੀ ਪੜ੍ਹਾਈ ਦੇ ਨਾਲ - ਨਾਲ
ਗੁਰਬਾਣੀ ਦਾ ਨਿੱਤਨੇਮ ਹੋ ਸਕਦਾ ਹੈ
ਇਹ ਗੁਰੂ ਨਾਨਕ ਦੇ ਹਰ ਸਿੱਖ ਨੂੰ ਕਰਨਾ ਚਾਹੀਦਾ ਹੈ। ਸੰਤ ਤੇਜਾ ਸਿੰਘ ਜੀ ਨੇ ਐਮ.ਏ., ਐਲ.ਐਲ.ਬੀ. ਤਕ ਦੇ ਇਮਤਿਹਾਨ ਪੰਜਾਬ ਵਿੱਚ ਜਦੋਂ ਪਾਸ ਕੀਤੇ ਤਾਂ ਉਸ ਸਮੇਂ ਨਿਤਨੇਮ ਦੇ ਪ੍ਰਭਾਵ ਤੋਂ ਵਾਂਝੇ ਸਨ। ਇਸ ਲਈ ਇਹ ਇਮਤਿਹਾਨ ਬੜੀ ਮੁਸ਼ਕਿਲ ਅਤੇ ਚਿੰਤਾ ਨਾਲ ਪਾਸ ਕੀਤੇ। ਸੰਤ ਜੀ ਦੱਸਦੇ ਕਿ ਹਾਰਵਰਡ ਦੀ ਪੜ੍ਹਾਈ ਬਹੁਤ ਹੀ ਜ਼ਿਆਦਾ ਸੀ ਅਤੇ ਨਾਲ ਇੱਕ ਥੀਸਿਸ ਵੀ ਲਿਖਣਾ ਸੀ। ਏਨੀ ਪੜ੍ਹਾਈ ਹੁੰਦਿਆਂ ਵੀ, ਕਿਉਂਕਿ ਸਤਿਗੁਰੂ ਦੀ ਕ੍ਰਿਪਾ ਹੋ ਚੁਕੀ ਸੀ, ਅੰਮ੍ਰਿਤ ਵੇਲੇ ਜਾਗਣਾ ਅਤੇ ਨਿਤਨੇਮ ਨਿਭਦਾ ਰਿਹਾ। ਇਮਤਿਹਾਨ ਭੀ ਏਨਾ ਸੁਖੈਨ ਪਾਸ ਹੋਇਆ ਕਿ ਇਸ ਤੋਂ ਪਹਿਲਾਂ ਕੋਈ ਭੀ ਨਹੀਂ ਸੀ ਹੋਇਆ।
ਪ੍ਰਭ ਕੈ ਸਿਮਰਨਿ ਗਿਆਨੁ ਧਿਆਨੁ ਤਤੁ ਬੁਧਿ ॥ (262)
Academic pursuits and recitation of Gurbani
can both be pursued
"I pursued higher studies doing M.A. and LL.B., with a lot of hard work and great difficulty. At that time I was not aware of reciting Gurbani as a daily prayer, but at Harvard University, I had to write a thesis on a very difficult and different subject on a very eminent poet, but I did it with ease because by this time, with the blessings of Sant Attar Singh Maharaj, my faith in Gurbani was absolute and I had begun to seek the Lord's grace. I would get up at the ambrosial hour and follow faithfully Rehat Maryada, i.e., reciting the Divine Naam and Gurbani as a daily routine. My academic achievements then became better than ever before. The Guru alleviates the difficulties of all those, who follow the divine path"
(In the remembrance of God are knowledge, meditation and the essence of wisdom.)
ਮਨ ਦੀ ਸਹਿਜ ਅਵਸਥਾ ਸੁਆਸ - ਸੁਆਸ ਸਿਮਰਨ ਨਾਲ ਆਉਂਦੀ ਹੈ
ਦਮਿ ਦਮਿ ਸਦਾ ਸਮਾਲਦਾ ਦੰਮੁ ਨ ਬਿਰਥਾ ਜਾਇ ॥ (556)
ਸਾਸਿ ਸਾਸਿ ਸਿਮਰਹੁ ਗੋਬਿੰਦ ॥ ਮਨ ਅੰਤਰ ਕੀ ਉਤਰੈ ਚਿੰਦ ॥ (295)
ਮਨ ਨੂੰ ਘੁੱਟ-ਘੁੱਟ ਕੇ ਵਸ ਕਰਨਾ ਠੀਕ ਨਹੀਂ। ਜਿਸ ਤਰ੍ਹਾਂ ਇੱਕ ਸੱਪ ਨੂੰ ਡੱਬੀ ਵਿੱਚ ਬੰਦ ਕਰ ਲਈਏ ਤਾਂ ਅਚਨਚੇਤ ਡੱਬੀ ਦਾ ਢੱਕਣ ਖੁੱਲ੍ਹਣ ਤੇ ਸੱਪ ਉੱਛਲ ਕੇ ਬੜਾ ਸਖਤ ਡੰਗ ਮਾਰਦਾ ਹੈ। ਇਹੋ ਹੀ ਮਨ ਦਾ ਹਾਲ ਹੈ। ਸੁਆਸ-ਸੁਆਸ ਸਿਮਰਨ ਕਰਨ ਨਾਲ ਮਨ ਸਹਿਜ ਅਵਸਥਾ ਵਿੱਚ ਆ ਜਾਂਦਾ ਹੈ।
Intuning of mind with the Divine bliss
(In every breath, he ever contemplates the Lord and not a
single breath of his passes in vain.)
(Divine peace and equipoise can be acquired only by the continuous recitation of the Divine Naam with every breath)
"Sant Attar Singh Maharaj used to say that one can't control the mind with forced rituals: just as a snake, kept in forced captivity of a casket, bites suddenly on the opening of the lid. Similarly, the mind commits so many sins when free. It can be controlled through constant recitation of the Divine Naam with every breath, which leads to attainment of Divine peace. Hence one should continue reciting the Divine Naam with every breath, while performing worldly duties."
ਮਹਾਂਪੁਰਖਾਂ ਦੇ ਬਚਨ ਕਮਾਣਾ ਤਪਾਂ ਸਿਰ ਤਪ ਹੈ
ਸੰਤਹੁ ਸਾਗਰੁ ਪਾਰਿ ਉਤਰੀਐ ॥
ਜੇ ਕੋ ਬਚਨੁ ਕਮਾਵੈ ਸੰਤਨ ਕਾ ਸੋ ਗੁਰ ਪਰਸਾਦੀ ਤਰੀਐ ॥ (747)
ਬਾਬਾ ਲਹਿਣਾ ਜੀ ਗੁਰੂ ਨਾਨਕ ਦੇਵ ਜੀ ਮਹਾਰਾਜ ਦਾ ਬਚਨ ਮੰਨ, ਗੁਰੂ ਨਾਨਕ ਰੂਪ ਹੋ ਕੇ ਗੁਰੂ ਅੰਗਦ ਦੇਵ ਜੀ ਹੋ ਪ੍ਰਗਟੇ।
Following the words of the Holy
is the highest form of meditation
One can easily swim across the ocean of the world with the words of the Guru on his lips. He can elevate himself to a higher pedestal if he is blessed by the holy men:
(O devotees! Cross over the life's turbulent ocean. One, who practices the teachings of the Sants, by Guru's Grace, is carried across.)
Bhai Lehna followed Guru Nanak in letter and spirit - so much so that he got transformed from an ordinary village trader to a God-conscious person. He became One with Him and attained a higher state of being. Finally he was anointed Guru.
ਹਮੇਸ਼ਾ ਦਸੂਰੇ ਦੇ ਗਣੁ ਅਤੇ ਆਪਣੇ ਅਵਗਣੁ ਵਖੇਣੇ
ਫਰੀਦਾ ਜੇ ਤੂ ਅਕਲਿ ਲਤੀਫੁ ਕਾਲੇ ਲਿਖੁ ਨ ਲੇਖ ॥
ਆਪਨੜੇ ਗਿਰੀਵਾਨ ਮਹਿ ਸਿਰੁ ਨੀਂਵਾਂ ਕਰਿ ਦੇਖੁ ॥ (1378)
ਹਮ ਨਹੀ ਚੰਗੇ ਬੁਰਾ ਨਹੀ ਕੋਇ ॥ ਪ੍ਰਣਵਤਿ ਨਾਨਕੁ ਤਾਰੇ ਸੋਇ ॥ (728)
Always look for what is good in others &
what is unsavoury in your own self
It is human nature to look for shortcomings in others:
(If you have been blessed to be intelligent, do not perform bad deeds. Rather, introspect humbly about the bad deeds performed earlier.)
and should always feel:
(Anyone, who believes and practices that he is not good and none other is bad, Nanak says the grace of God helps him to overcome the turbulence of life.)
ਸੇਵਾ ਕਰਨ ਨਾਲ ਮਨ ਨਿਰਮਲ ਹੁੰਦਾ ਹੈ,
ਗਰੀਬੀ ਆਉਂਦੀ ਹੈ ਅਤੇ ਮਨ ਸ਼ਬਦ ਨਾਲ ਜੁੜਦਾ ਹੈ
ਸੇਵਾ ਤਿੰਨ ਪ੍ਰਕਾਰ ਦੀ ਹੈ:
ਧਨ ਨਾਲ ਸੇਵਾ: ਦਸਾਂ ਨਹੁੰਆਂ ਦੀ ਕਮਾਈ ਕਰ ਕੇ ਮਾਇਆ ਸੇਵਾ ਵਿੱਚ ਲਾਉਣਾ ਅਤੇ ਗੁਰਮਤਿ ਦਾ ਰਸਤਾ ਪ੍ਰਾਪਤ ਕਰਨਾ:
ਘਾਲਿ ਖਾਇ ਕਿਛੁ ਹਥਹੁ ਦੇਇ ॥ ਨਾਨਕ ਰਾਹੁ ਪਛਾਣਹਿ ਸੇਇ ॥ (1245)
ਸਰੀਰ ਨਾਲ ਸੇਵਾ: ਇਸ ਦਾ ਪਹਿਲੀ ਸੇਵਾ ਨਾਲੋਂ ਬਹੁਤ ਉੱਚਾ ਦਰਜਾ ਹੈ। ਧੰਨ-ਧੰਨ ਸ੍ਰੀ ਗੁਰੂ ਅਮਰਦਾਸ ਜੀ ਮਹਾਰਾਜ, ਜਿਨ੍ਹਾਂ ਨੇ 62 ਸਾਲ ਦੀ ਉਮਰ ਵਿੱਚ ਗੁਰੂ ਦੀ ਸੇਵਾ ਕਰਕੇ ਪੂਰਨੇ ਪਾਏ:
ਗੁਰ ਸੇਵਾ ਤੇ ਸੁਖੁ ਊਪਜੈ ਫਿਰਿ ਦੁਖੁ ਨ ਲਗੈ ਆਇ ॥ (651)
ਮਨ ਨਾਲ ਸੇਵਾ: ਪਹਿਲੀਆਂ ਦੋਵੇਂ ਸੇਵਾ ਕਰਨ ਨਾਲ ਮਨ ਨਿਰਮਲ ਹੁੰਦਾ ਹੈ ਅਤੇ
ਸਬਦੁ ਗੁਰੂ ਸੁਰਤਿ ਧੁਨਿ ਚੇਲਾ ॥ (943)
ਅਥਵਾ ਮਨ ਵਿੱਚ ਹਰ ਵਕਤ ਸ਼ਬਦ ਗੁਰੂ ਦਾ ਅਭਿਆਸ ਕਰਨ ਨਾਲ ਪਉੜੀ ਪਉੜੀ ਚੜ੍ਹਦਿਆਂ ਨਿਰਾਕਾਰ ਵਿੱਚ ਪਹੁੰਚ ਜਾਈਦਾ ਹੈ।
Selfless Service ennobles a man by purifying his mind.
It imbues a man with humbleness &
enjoins him to His 'Word'
Selfless service is of three types:
To serve materially:(Only he, who works hard for honest livelihood and shares a part of his earnings - minimum 10% - with others, recognizes the Divine path.)
Physical service:Vinh(u) sewa dhrigg hatth p-ei-r Hor nehphal karnhee.
(If one does not render divine service, his hands and feet are worthless. So also the deeds performed with them.)
Physical service is greater than material service. A man must always seek company of the God-conscious persons to do so. Didn't Guru Amar Das render selfless service to his master at the age of sixty-two?:
(Serving the Guru, peace is produced, and then, one does not suffer in pain.)
Inner service: No doubt, the material, and physical services purify a man's mind. But a truly blessed person is the one, who is completely immersed in his Lord through 'Word' (Shabad Guru), i.e., by reciting the Divine Name all the time. How aptly Bhagat Namdev sums up man's duties in the following words:
Haath paao(u) kar(i) kaam(u) sabh(u) Cheet(u) Niranjan naal(i):
(Your body should perform all worldly deeds the whole day, but let your mind with utmost devotion remain with the Immaculate Lord.)
He alone reaches the Pinnacle of spiritual bliss, who keeps climbing the stairs of life step by step.
ਗੁਰੂ ਘਰ ਦੀ ਸੇਵਾ ਦੀ ਪੰਡ ਸਿਰ ਤੋਂ ਨਹੀਂ ਸੁੱਟਣੀ ਚਾਹੀਦੀ
ਭਾਵੇਂ ਏਸ ਹੇਠਾਂ ਹੀ ਕੁਚਲੇ ਕਿਉਂ ਨਾ ਜਾਈਏ
ਤੇਰੀ ਭਗਤਿ ਨ ਛੋਡਉ ਕਿਆ ਕੋ ਹਸੈ ॥ (1170)
ਹਸਤੀ ਸਿਰਿ ਜਿਉ ਅੰਕਸੁ ਹੈ ਅਹਰਣਿ ਜਿਉ ਸਿਰੁ ਦੇਇ ॥
ਮਨੁ ਤਨੁ ਆਗੈ ਰਾਖਿ ਕੈ ਊਭੀ ਸੇਵ ਕਰੇਇ ॥ (647)
Never shed the divine service
even if you have to pay a heavy price.
(I shall not renounce Your worship, O Lord; what does it matter if people laugh at me?)
and
(As the elephant bears the goad on his head and like a piece of iron on the anvil for rendering the service, by submitting the mind and body to the divine Master, one should render the service with complete love and devotion.)
ਸਾਦਾ ਨਿਰਬਾਹ ਕਰਨਾ, ਸਾਦੀ ਖੁਰਾਕ ਖਾਣੀ ਅਤੇ ਸਾਦਾ ਪੈਨ੍ਹਣਾ
ਪਰਸ਼ਾਦਾ ਛਕਦਿਆਂ ਜੋ ਰੁੱਖਾ-ਮਿੱਸਾ ਥਾਲ ਵਿੱਚ ਆਵੇ ਉਸ ਨੂੰ ਅੰਮ੍ਰਿਤ ਸਮਝ ਕੇ ਗੁਰੂ ਦਾ ਸ਼ੁਕਰ ਕਰਕੇ ਛਕਣਾ ਅਤੇ ਸੁਆਦ ਨੂੰ ਨਹੀਂ ਪਰਖਣਾ:
ਛਾਦਨ ਭੋਜਨ ਕੀ ਆਸ ਨ ਕਰਈ ਅਚਿੰਤੁ ਮਿਲੈ ਸੋ ਪਾਏ ॥ (1013)
Follow the principle of simple living and divine thinking
Always lead a simple life by eating simple food and wearing simple dress. Whenever food is served, even if it is tasteless, it should be taken as a divine boon considering it as His blessings. One should not be greedy of sumptuous food. According to Gurbani, simple living means to remain humble and grateful to God, who provides everything for the basic needs of all. Thus one should lead the life according to the divine law as enunciated in Guru Granth Sahib:
(One should not desire to wear costly attractive dresses and eating sumptuous foods. He should rather be thankful for whatever God provides and be contented.)
ਪਕੜ ਨਾ ਰੱਖ ਕੇ ਜੋ ਕਾਰਜ ਸਾਹਮਣੇ ਆਵੇ,
ਉਹ ਗੁਰੂ ਕਾ ਸਮਝ ਕੇ ਉਤਸ਼ਾਹ ਨਾਲ ਕਰੇ
ਸਫਲਤਾ ਜਾਂ ਅਸਫਲਤਾ ਕਰਤਾਰ ਦੇ ਹੁਕਮ ਵਿੱਚ ਮੰਨੇ। ਇਸ ਤਰ੍ਹਾਂ ਸਮਝ ਕੇ ਕਿ:
ਹਉ ਮੂਰਖੁ ਕਾਰੈ ਲਾਈਆ ਨਾਨਕ ਹਰਿ ਕੰਮੇ ॥ (449)
ਕਾਰਜ ਅਥਵਾ ਸੇਵਾ ਕਰਦਿਆਂ 'ਕਰਮਾ ਯੋਗਾ' ਦਾ ਪਾਲਣ ਕਰੇ। ਜੈਸਾ ਕਿ:
ਕਰਮ ਕਰਤ ਹੋਵੈ ਨਿਹਕਰਮ ਤਿਸੁ ਬੈਸਨੋ ਕਾ ਨਿਰਮਲ ਧਰਮ ॥
ਕਾਹੂ ਫਲ ਕੀ ਇਛਾ ਨਹੀ ਬਾਛੈ ਕੇਵਲ ਭਗਤਿ ਕੀਰਤਨ ਸੰਗਿ ਰਾਚੈ ॥ (274)
Render selfless service dutifully
without desiring any rewards as if it is
Whatever job is assigned, one should carry out the same by considering it to be his Divine Master's command. Without having any attachment with it, he should perform it with full devotion and without questioning the rationale of the assigned task, thinking that it is his divine duty:
(I am just incompetent, O Nanak! But the Lord has appointed me to perform His service.)
This is the act of one's divine humility. Leave the outcome of the assigned task to the Almighty and never desire the fruits in return:
(Performing good deeds, one does not seek rewards. Spotlessly pure is the religion of such a devoted seeker of truth.)
After performing good deeds, one should pray to the Lord that he has not done anything, O Lord! You have got it done by him. According to Hindu philosophy, this is called Karma Yoga as enunciated by Lord Krishna in Bhagwad Gita:
Karamanh-ai-vaadhikarast-ai ma phaleshu kadaachana
(One should do one's duty and not seek or get concerned about the outcome or the reward from having truthfully performed duty.)
ਹਰ ਸਮੇਂ ਮਿੱਠਾ ਬੋਲਣਾ
ਮਿਠਤੁ ਨੀਵੀ ਨਾਨਕਾ ਗੁਣ ਚੰਗਿਆਈਆ ਤਤੁ ॥ (470)
ਨਿਵਣੁ ਸੁ ਅਖਰੁ ਖਵਣੁ ਗੁਣੁ ਜਿਹਬਾ ਮਣੀਆ ਮੰਤੁ ॥
ਏ ਤੈ੍ਰ ਭੈਣੇ ਵੇਸ ਕਰਿ ਤਾਂ ਵਸਿ ਆਵੀ ਕੰਤੁ ॥ (1384)
Always talk sweetly and remain in divine humility
Guru Nanak opines that divine humility is the most soothing and gist of all virtues:
(The essence of all virtues is humility.)
Humbleness, tolerance, and sweet soothing language are the three main virtues for the beloved to attract the attention of the divine Lover, the Lord Almighty
(Humility is the word, forgiveness is the virtue and sweet speech is the magic mantra. Wear these three robes, O sister! You will captivate your Lord Husband.)
ਨਿਰਾਕਾਰ ਦਾ ਦੇਸ਼ ਇਕ ਹੀ ਹੈ
ਅਤੇ ਅਕਾਲ ਪੁਰਖ ਅਨੁਭਵੀ ਜਾਗਦੀ ਜੋਤ ਹੈ
ਘਟ ਘਟ ਮੈ ਹਰਿ ਜੂ ਬਸੈ ਸੰਤਨ ਕਹਿਓ ਪੁਕਾਰਿ ॥ (1427)
ਸਭੈ ਘਟ ਰਾਮੁ ਬੋਲੈ ਰਾਮਾ ਬੋਲੈ ॥ ਰਾਮ ਬਿਨਾ ਕੋ ਬੋਲੈ ਰੇ ॥ (988)
ਜੋ ਭੀ ਜਗਿਆਸੂ ਪੂਰਨ ਈਮਾਨਦਾਰੀ ਅਤੇ ਸ਼ਰਧਾ ਨਾਲ ਆਪਣੇ ਹਿਰਦੇ ਵਿੱਚ ਹਲੀਮੀ ਅਤੇ ਨਿਮਰਤਾ ਸਹਿਤ ਇਸ ਦੀ ਖੋਜ ਕਰੇ ਅਤੇ ਨਾਲ-ਨਾਲ ਗੁਰਮੁਖਾਂ ਦੀ ਸੰਗਤ ਕਰੇ ਤਾਂ ਉਸ ਨੂੰ ਉਸ ਦਾ ਅਨੁਭਵ ਅਤੇ ਗਿਆਨ ਹੋ ਜਾਂਦਾ ਹੈ:
ਜਿਨੀ ਨਾਮੁ ਧਿਆਇਆ ਗਏ ਮਸਕਤਿ ਘਾਲਿ ॥
ਨਾਨਕ ਤੇ ਮੁਖ ਉਜਲੇ ਕੇਤੀ ਛੁਟੀ ਨਾਲਿ ॥ (8)
There is only one formless abode,
which perceivable enlightened Almighty pervades.
Gurbani elaborates:
(The Sants proclaim that the dear Lord abides in each and every heart.)
It further strengthens:
(Within all hearts, the Lord speaks. Who else speaks, other than the Lord?)
Whosoever, searches the divine within, with complete dedication, devotion and divine humility, in the company of the God-conscious persons, attains the light:
(Those, who meditate on the Divine Name, reach the goal of human life. Their faces radiate with divine glory and lead many more to this divine goal and free them from the cycle of birth and rebirth.)
ਸਾਧੂ ਦੇ ਅਟੱਲ ਬਚਨ
ਨਿਸਿ ਬਾਸੁਰ ਨਖਿਅਤ੍ਰ ਬਿਨਾਸੀ ਰਵਿ ਸਸੀਅਰ ਬੇਨਾਧਾ ॥
ਗਿਰਿ ਬਸੁਧਾ ਜਲ ਪਵਨ ਜਾਇਗੋ ਇਕਿ ਸਾਧ ਬਚਨ ਅਟਲਾਧਾ ॥ ( 1204 )
ਸਾਧੂਆਂ ਅਤੇ ਮਹਾਂਪੁਰਖਾਂ ਦੇ ਬਚਨ ਮਹਾਂ ਅਕਾਸ਼ ਵਿੱਚ ਜਮ੍ਹਾਂ ਰਹਿੰਦੇ ਹਨ ਅਤੇ ਆਪਣੇ ਸਮੇਂ 'ਤੇ ਜ਼ਰੂਰ ਰੰਗ ਲਿਆਉਂਦੇ ਹਨ। ਸ੍ਰਿਸ਼ਟੀ ਭਾਵੇਂ ਤਬਾਹ ਹੋ ਜਾਵੇ, ਸਾਧੂ ਦੇ ਬਚਨ ਜਰੂਰ ਅਟੱਲ ਰਹਿੰਦੇ ਹਨ।
ਨਾਨਕ ਸਾਧ ਪ੍ਰਭ ਭੇਦੁ ਨ ਭਾਈ ॥(272)
The eternal words of the 'Sant'
(Night, day and the stars in the sky shall perish. The sun and the moon shall vanish. The mountains, the earth, the water and the air shall pass away. Only the 'Word' of the Sant shall last eternally.)
The holy words of the God-conscious persons remain in the cosmos and manifest their divine effect at the appropriate time, irrespective of the Universe being created or destroyed many a time.
In this context, Gurbani reveals that any disaster may rock the Universe, but the sayings of a Sant remain unchanged:
(O Nanak! There is no difference between the holy persons and the Lord.)
ਸ਼ਾਂਤਮਈ ਸਤਿਆਗ੍ਰਹਿ
ਗੁਰੂ-ਘਰ ਵਿੱਚ ਸ਼ਾਂਤਮਈ ਸਤਿਆਗ੍ਰਹਿ ਸ਼ਬਦ ਵਿੱਚ ਲੀਨ ਹੋਣਾ ਹੈ। ਜਦੋਂ ਪ੍ਰਿਥੀ ਚੰਦ ਸੁਲਹੀ ਖਾਂ ਨੂੰ ਲੈ ਕੇ ਗੁਰੂ ਅਰਜਨ ਦੇਵ ਜੀ ਮਹਾਰਾਜ 'ਤੇ ਚੜ੍ਹਾਈ ਕਰਨ ਆਇਆ ਸੀ ਤਾਂ ਉਸ ਸਮੇਂ ਸੱਚੇ ਪਾਤਿਸ਼ਾਹ ਹਰਿਮੰਦਰ ਸਾਹਿਬ ਵਿਖੇ ਕੀਰਤਨ ਵਿੱਚ ਜੁੜੇ ਹੋਏ ਸਨ। ਭਾਵੇਂ ਸੇਵਕਾਂ ਨੇ ਕੋਈ ਯਤਨ ਕਰਨ ਲਈ ਬੇਨਤੀ ਕੀਤੀ ਪਰ ਸੱਚੇ ਪਾਤਿਸ਼ਾਹ ਨੇ ਹੁਕਮ ਕੀਤਾ, "ਪ੍ਰੇਮੀਓ ! ਕੋਈ ਫੁਰਨਾ ਨਾ ਕਰੋ, ਕੀਰਤਨ ਵਿੱਚ ਜੁੜੇ ਰਹੋ।" ਇਸ ਗੁਰਸ਼ਬਦ ਦੇ ਅਡੋਲ ਸਤਿਆਗ੍ਰਹਿ ਦੀ ਐਸੀ ਲਹਿਰ ਚੱਲੀ ਕਿ ਸੁਲਹੀ ਖਾਂ ਰਸਤੇ ਵਿੱਚ ਹੀ, ਘੋੜੇ ਦੇ ਪੈਰ ਭੱਠੇ ਵਿੱਚ ਧਸ ਜਾਣ ਕਾਰਨ, ਆਪਣੀ ਤਲਵਾਰ ਨਾਲ ਹੀ ਮਾਰਿਆ ਗਿਆ:
ਸੁਲਹੀ ਤੇ ਨਾਰਾਇਣ ਰਾਖੁ
ਸੁਲਹੀ ਕਾ ਹਾਥੁ ਕਹੀ ਨ ਪਹੁਚੈ ਸੁਲਹੀ ਹੋਇ ਮੂਆ ਨਾਪਾਕੁ॥ (825)
Withstanding obstacles with divine love and compassion
The preaching of Guru Nanak emphasizes withstanding hurdles with love and compassion by intoning one's mind in the divine 'Word'. When Sulhi Khan, the general of the Mughal Emperor Jehangir, was advancing towards Amritsar to attack Guru Arjan, the disciples pleaded with the Guru to make some effort to resist the invader. The Guru told his devotees to have no fear and remain intuned with the Lord by reciting the divine hymns. It helped create such reverberations that Sulhi Khan got killed on his way when his horse slipped in the brick-kiln:
(The Lord saved me from Sulhi Khan. The emperor did not succeed in his plot, and he died in disgrace.)
It shows that the recitation of the Divine Name (Gurbani), with complete devotion and concentration, removes all obstacles in the life of the devotee. This is a truly peaceful movement in Sikhism.
ਆਤਮਿਕ ਮੰਡਲ ਦੇ ਪਾਂਧੀਆਂ ਦੀ ਤਾਰ ਇਕ ਹੁੰਦੀ ਹੈ
ਇਸ ਪ੍ਰਥਾਏ ਸੰਤ ਤੇਜਾ ਸਿੰਘ ਜੀ ਮਹਾਰਾਜ ਦੱਸਦੇ ਹਨ ਕਿ ਜਦ ਉਹ ਖਾਲਸਾ ਕਾਲਜ ਅੰਮ੍ਰਿਤਸਰ ਵਿਖੇ ਪਿੰਸੀਪਲ ਸਨ ਤਦ ਬਾਬਾ ਕੇਸਰ ਸਿੰਘ ਜੀ, ਕਿੱਲੀ ਵਾਲੇ, ਇੱਕ ਬੜੇ ਪ੍ਰਸਿੱਧ ਨਾਮਧਾਰੀ ਸੰਤ ਉਨ੍ਹਾਂ ਨੂੰ ਖਾਲਸਾ ਕਾਲਜ ਵਿੱਚ ਮਿਲੇ। ਆਪਣੇ ਅਨੁਭਵ ਦੁਆਰਾ ਬਾਬਾ ਕੇਸਰ ਸਿੰਘ ਜੀ ਨੇ ਐਲਾਨ ਕੀਤਾ ਕਿ ਅੱਗੇ ਗੁਰਮੰਤ੍ਰ ਕੰਨ ਵਿੱਚ ਮਿਲਦਾ ਸੀ (ਨਾਮਧਾਰੀ ਹੁਣ ਤੀਕਰ ਮੰਤ੍ਰ ਕੰਨ ਵਿੱਚ ਹੀ ਦਿੰਦੇ ਹਨ), ਪਰ ਹੁਣ ਸਤਿਗੁਰੂ ਦੇ ਹੁਕਮ ਵਿੱਚ ਗੁਰਮੰਤ੍ਰ ਖੁੱਲ੍ਹਾ ਪ੍ਰਗਟ ਹੋ ਜਾਏਗਾ ਅਤੇ ਜਗਿਆਸੂ ਨੂੰ ਸਪਸ਼ਟ ਦੱਸਿਆ ਜਾਏਗਾ।
ਉਸੇ ਸ਼ਾਮ ਸੰਤ ਅਤਰ ਸਿੰਘ ਜੀ ਮਹਾਰਾਜ ਕਾਲਜ ਦੀ ਧਰਮਸ਼ਾਲਾ ਵਿਖੇ ਲੱਗੇ ਦੀਵਾਨ ਵਿੱਚ ਹਾਜ਼ਰ ਹੋਏ ਅਤੇ ਪਹਿਲੀ ਵਾਰੀ ਬੜੀ ਉੱਚੀ ਅਵਾਜ਼ ਵਿੱਚ, 'ਸਤਿਨਾਮੁ ਸਤਿਨਾਮੁ ਸਤਿਨਾਮੁ ਜੀ, ਵਾਹਿਗੁਰੂ ਵਾਹਿਗੁਰੂ ਵਾਹਿਗੁਰੂ ਜੀ' ਸਾਰੀ ਸੰਗਤ ਨੂੰ ਪੜ੍ਹਾਇਆ ਅਤੇ ਬਾਬਾ ਕੇਸਰ ਸਿੰਘ ਜੀ ਦਾ ਅਨੁਭਵੀ ਬਚਨ ਪੂਰਾ ਕੀਤਾ।
ਸੁਨਿ ਮੀਤਾ ਨਾਨਕੁ ਬਿਨਵੰਤਾ ॥
ਸਾਧ ਜਨਾ ਕੀ ਅਚਰਜ ਕਥਾ ॥ (271)
All the God-conscious persons have the same divine tune
When I was the principal of Khalsa College, Amritsar, I came across a highly respectable Sant, Baba Kesar Singh (Killi Wale) in the college Gurdwara. With his divine perception, Baba Ji expounded that as per the Divine Will of the Satguru, Gur Mantra (the divine 'Word') would hereafter be recited openly in the congregation. (The prevailing practice was to give the Gur Mantra confidentially in the ear of the seekers of Truth.) The same evening, Sant Attar Singh Ji was scheduled to have his meals with us at my invitation. Before coming home, Sant Ji went straightaway to the college Gurdwara, where a special congregation was arranged. In the holy benevolence of Guru Granth Sahib, he pronounced the Divine Name openly and requested the congregation to recite Satnam-Waheguru. Thus he confirmed the divine perception of Baba Kesar Singh that the seekers would henceforth be blessed with the Gur Mantra openly:
(Listen, O friends! Nanak supplicates that the story of the holy people is unique and wonderful.)
ਇਕਾਂਤ ਸਿਮਰਨ
ਇੱਕ ਦਿਨ ਅੰਮ੍ਰਿਤ ਵੇਲੇ ਸੰਤ ਤੇਜਾ ਸਿੰਘ ਜੀ ਨੇ ਸੰਤ ਅਤਰ ਸਿੰਘ ਜੀ ਮਹਾਰਾਜ ਪਾਸ ਬੇਨਤੀ ਕੀਤੀ, "ਸੱਚੇ ਪਾਤਸ਼ਾਹ! ਇਕਾਂਤ ਸਿਮਰਨ ਦੀ ਆਗਿਆ ਬਖਸ਼ੋ।" ਅੰਤਰਯਾਮੀ ਸੰਤ ਜੀ ਮਹਾਰਾਜ ਨੇ ਫੁਰਮਾਇਆ, "ਭਾਈ ਤੇਜਾ ਸਿੰਘ ਜੀ! ਸੰਗਤ ਦੇ ਬਚਨ-ਕੁਬਚਨ ਸਹਾਰ ਕੇ ਨਾਲ-ਨਾਲ ਮਨ ਦੀ ਪ੍ਰੀਖਿਆ ਹੁੰਦੀ ਰਹਿੰਦੀ ਹੈ।
ਕਾਹੇ ਰੇ ਬਨ ਖੋਜਨ ਜਾਈ ॥
ਸਰਬ ਨਿਵਾਸੀ ਸਦਾ ਅਲੇਪਾ ਤੋਹੀ ਸੰਗਿ ਸਮਾਈ ॥ (684)
ਏਸੇ ਪਰਥਾਏ, ਇੱਕ ਖਾਸ ਰੰਗ ਵਿੱਚ ਆ ਕੇ ਸੰਤ ਜੀ ਮਹਾਰਾਜ ਨੇ ਆਖਿਆ, "ਭਾਈ ਤੇਜਾ ਸਿੰਘ ਜੀ! ਤੁਸੀਂ ਬੜੇ ਇਮਤਿਹਾਨ ਪਾਸ ਕੀਤੇ ਹਨ, ਪਰ ਬ੍ਰਹਮ-ਵਿੱਦਿਆ ਦਾ ਇਮਤਿਹਾਨ ਉਸ ਦਿਨ ਪਾਸ ਹੁੰਦਾ ਹੈ, ਜਦ ਕੋਈ ਪਿੱਛੋਂ ਆ ਕੇ ਤੁਹਾਨੂੰ ਲੱਤ ਮਾਰੇ ਤੇ ਤੁਸੀਂ ਉਧਰ ਧਿਆਨ ਵੀ ਨਾ ਕਰੋ ਜਾਂ ਕੋਈ ਸਾਹਮਣੇ ਆ ਕੇ ਆਖੇ, ਤੂੰ ਬੜਾ ਕੰਜਰ ਹੈਂ ਪਰ ਤੁਸੀਂ ਹੱਥ ਜੋੜ ਕੇ ਆਖੋ, ਬੜੀ ਕ੍ਰਿਪਾ ਕੀਤੀ, ਦੱਸ ਦਿੱਤਾ।" ਸੰਤ ਤੇਜਾ ਸਿੰਘ ਜੀ ਨੇ ਸੀਸ ਨਿਵਾ ਕੇ 'ਸਤਿ ਬਚਨ' ਕਿਹਾ।
Meditation in Seclusion
Once in the ambrosial hour, Sant Teja Singh Ji very humbly requested Sant Attar Singh Ji to permit him to meditate on the Divine Name in a secluded place. Sant Ji expounded, "O Bhai Teja Singh! By meditating on the Divine Name in the congregation, one gets divine strength to tolerate rebukes and praises":
(Why do you go looking for Him in the forest? The all-pervading unattached Almighty is always with you as your companion.)
He went on to add, "Bhai Teja Singh! You have qualified many worldly examinations, but the real test of divinity will be passed when someone kicks you on the back, but you remain intoned with the Divine 'Word' and your attention does not get diverted. Likewise, when someone rebukes you with choicest names, you should tell him with folded hands that he had favored you by pointing out your shortcomings." With folded hands, I bowed before my mentor with a resolve to carry out his divine advice in letter and spirit.
ਪ੍ਰਭ ਕੀ ਆਗਿਆ ਆਤਮ ਹਿਤਾਵੈ ॥
ਜੀਵਨ ਮੁਕਤਿ ਸੋਊ ਕਹਾਵੈ ॥
ਗੁਰਸਾਗਰ ਮਸਤੂਆਣਾ ਛੱਡਣ ਸਮੇਂ ਸੰਤ ਤੇਜਾ ਸਿੰਘ ਜੀ ਨੇ ਸੰਤ ਅਤਰ ਸਿੰਘ ਜੀ ਪਾਸ ਬੇਨਤੀ ਕੀਤੀ "ਸੱਚੇ ਪਾਤਸ਼ਾਹ! ਇਹ ਜੋ ਈਰਖਾਲੂ ਪੇ੍ਰਮੀਆਂ ਨੇ ਨਿਰਾਦਰੀ ਦੀ ਖੇਡ ਵਰਤਾਈ ਹੈ, ਓਸ ਦਾ ਕੋਈ ਇਸ਼ਾਰਾ ਦਾਸ ਨੂੰ ਕਰ ਦਿੰਦੇ ਤਾਂ ਜੋ ਦਾਸ ਹੋਰ ਭੀ ਹੁਕਮ ਅਤੇ ਰਜ਼ਾ ਵਿੱਚ ਰਹਿੰਦਾ।" ਸੰਤ ਅਤਰ ਸਿਘ ਜੀ ਮਹਾਰਾਜ ਨੇ ਫਰੁਮਾਇਆ, "ਭਾਈ! ਕਝੁ ਦਿਨ ਪਹਿਲਾਂ ਤਹੁਾਨੂੰ ਇਸ ਦਾ ਇਸ਼ਾਰਾ ਕਰਕੇ ਇਸ ਸ਼ਬਦ ਦਾ ਉਪਦੇਸ਼ ਹਿਰਦੇ ਵਿਚ ਦ੍ਰਿੜਾਉਣ ਲਈ ਕੀਤਾ ਸੀ"।
ਪ੍ਰਭ ਕੀ ਆਗਿਆ ਆਤਮ ਹਿਤਾਵੈ ॥ ਜੀਵਨ ਮੁਕਤਿ ਸੋਊ ਕਹਾਵੈ ॥
ਤੈਸਾ ਹਰਖੁ ਤੈਸਾ ਉਸੁ ਸੋਗੁ ॥ ਸਦਾ ਅਨੰਦੁ ਤਹ ਨਹੀ ਬਿਓਗੁ ॥
ਤੈਸਾ ਸੁਵਰਨੁ ਤੈਸੀ ਉਸੁ ਮਾਟੀ ॥ ਤੈਸਾ ਅੰਮ੍ਰਿਤੁ ਤੈਸੀ ਬਿਖੁ ਖਾਟੀ ॥
ਤੈਸਾ ਮਾਨੁ ਤੈਸਾ ਅਭਿਮਾਨੁ ॥ ਤੈਸਾ ਰੰਕੁ ਤੈਸਾ ਰਾਜਾਨੁ॥
ਜੋ ਵਰਤਾਏ ਸਾਈ ਜੁਗਤਿ ॥ ਨਾਨਕ ਉਹ ਪੁਰਖੁ ਕਹੀਐ ਜੀਵਨ ਮੁਕਤਿ ॥ (275)
One, who follows the Divine Law &
eradicates his ego completely, is termed as Jeevan Mukta,
i.e., liberated from the cycle of birth &
rebirth in this very life
Before leaving Gursagar Mastuana, I requested Sant Attar Singh, "My Lord! The game of slander that my antagonists are playing, please guide me so that I can be more tolerant." Sant Attar Singh replied, "Brother Teja Singh! I had directed you a few days ago to recite the following Gurbani Shabad and follow it in letter and spirit":
One who, in his soul, loves the Will of God, is said to be Jivan Mukta - liberated while yet alive. As is joy, so is sorrow to him. He is in eternal bliss, and is not separated from God. As is gold, so is dust to him. As is ambrosial nectar, so is bitter poison to him. As is honor, so is dishonor. As is the beggar, so is the king. Whatever God ordains, that is his way. O Nanak! That being is known as Jivan Mukta.
Inspiring Life of

Sant Teja Singh ji
14th May, 1877 – 3rd July 1965
1877
Born on 14 May 1877 in village Balowali (Gujranwala, now in Pakistan)
1900
Post-Graduated in Arts with Gold Medal, at 23
1901
Completed Bachelor of Law, at 24
1902
Cleared Civil Services Examination, at 25
1904
Appointed youngest Vice-Principal of Khalsa College, Amritsar, at 27
1905
Appointed first Sikh Principal of Khalsa College, Amritsar, at 28
1906
First Sikh student at Cambridge University, London, at 29
1910
Built London's first Gurdwara, followed by Canada's first Gurdwara in 1912
1911
First Sikh student at Harvard University, USA, at 34
1913
Won Permanent Residency Rights for Indians in Canada, at 36
1919
Appointed first Principal of Teachers' Training College, Banaras Hindu University, at 42
1921
On the request of Khalsa Panth served as Jathedar of Akal Takht Sahib
1923
Appointed Principal at Akal Degree College, Mastuana Sahib, at 46
1927
Sant Attar Singh Ji passed on the baton to Sant Teja Singh Ji
1932
Started the construction of Gurdwara Nanaksar Sahib at Cheema Sahib
1949
Met Sant Baba Iqbal Singh Ji and Dr Khem Singh Ji at Khalsa College, Amritsar
1952
To spread the message of Guru Nanak, travelled to eastern countries
1954
To spread the message of Guru Nanak, travelled to African countries
1956
Delivered a lecture 'The Way to Establish Permanent Peace' at the Eighth Congress of World Religions for Peace held in Japan

Revealed Tapo Bhumi Baru Sahib, Himachal Pradesh, at 80
1959
Laid down the foundation-stone of Gurdwara Sahib at the place of birth of Sant Attar Singh Ji at Cheema Sahib
1963
Founded The Kalgidhar Trust, at 86
1965
Merged with Divine Light, at 88
Prernatmak Jeewan

Sant Teja Singh ji
The Government of British Columbia, Canada

has declared July 1 as 'Sant Teja Singh Day'.
It's a matter of great pride for the Sikh community. In this regard, the Lieutenant Governor of British Columbia has issued a notification praising the contribution of Sant Teja Singh Ji and Sikhs in Canada. According to the notification issued by the Government of British Columbia,
"Since the end of the 19th century, Sikhs have played a significant role in the history and development of British Columbia, facing many difficulties. A humanitarian, scholar and tireless advocate for Sikhs in Canada, Sant Teja Singh Ji dedicated his life to challenging inequality, fighting for a just society and serving without discrimination in accordance with the tenets of Sikhism. The Government of British Columbia in British Columbia respecting the history and culture of Sikhs declares July 1 as 'Sant Teja Singh Day'."